:: View PlexiPlaq (No Backing or Hanger) in 3D ::
---
PlexiPlaq (No Backing or Hanger) Gallery

Edge Option

Beveled Edge (Clear)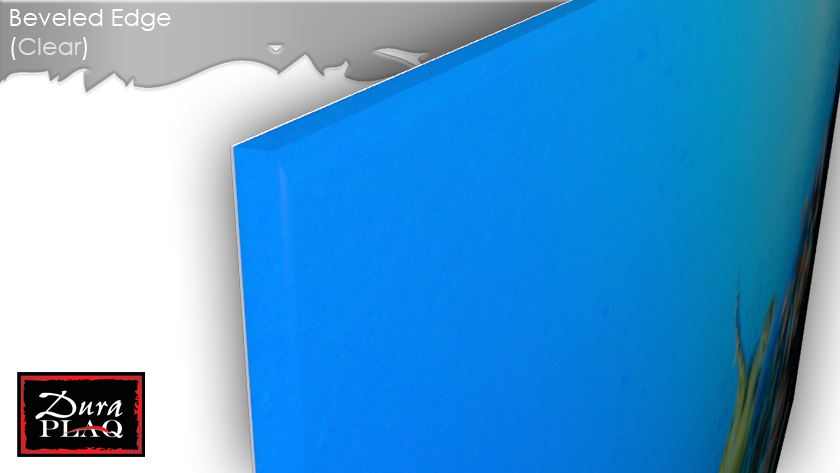 Description
Matching the sheen and allure of glass, with the durability and long lasting products, this product is a suitable and lightweight alternative in picture framing to replace a print and glass.  PlexiPlaq (No Hanger) is the exact same as the PlexiPlaq with the exception of the hanger.  This offers a very strong and lightweight product that can be used in frames or with standoffs. DuraPlaq® believes in providing the best products to customers and uses only the highest quality, premium museum-grade acrylic on the market.  Partnering superior ultra violet light protection and a scratch resistance coating, this acrylic product has superior durability and protection.  A DuraPlaq® fine art print or a customer supplied print is face mounted in a fully acid-free manner.  Metallic or glossy type prints are recommended for this product to add extra depth and iridescence for a remarkably modern presentation.  An optional beveled edge is standard for mounting with a bottom stack component but Plexiplaq (No Backing or Hanger) may additionally be ordered with no beveled edge for use in framing applications.
Material and Sizing Specifications:
Museum grade, ultra-violet protected, scratch resistant 3/16" acrylic.  Overall depth of product is 3/16".  This standard product is available in any size up 48" x 96", larger custom sizes available.
Surface Finish Options:
PlexiPlaqs have a scratch resistant, glossy acrylic surface finish. Please visit the care section for instructions on cleaning and maintenance.
Hanging System:
No hanger.  If a hanger is desired please see the PlexiPlaq product or contact our sales team for custom hanging options.  PlexiPlaq (No Backing or Hanger) product is mainly intended for use in combining with other DuraPlaq® products to create a stacked effect or for framing applications. PlexiPlaq product can be used in conjunction with standoffs, additional charges will apply.
Edge Options:
Clear 1/8" wide bevel is standard, edge may be ordered without bevel or left raw for framing if specified.  PlexiPlaqs can be provided with a laser flame polished edge, although DuraPlaq® does not recommend this option due to acrylic crazing.  Please note that when providing artwork or image files, signatures and crucial components of an image or print should be a minimum 1/4" from the edge to accommodate trimming during the production process.