:: View Stone Coaster in 3D ::
---
Stone Coaster Gallery

Edge Option

Raw Stone Edge (Front)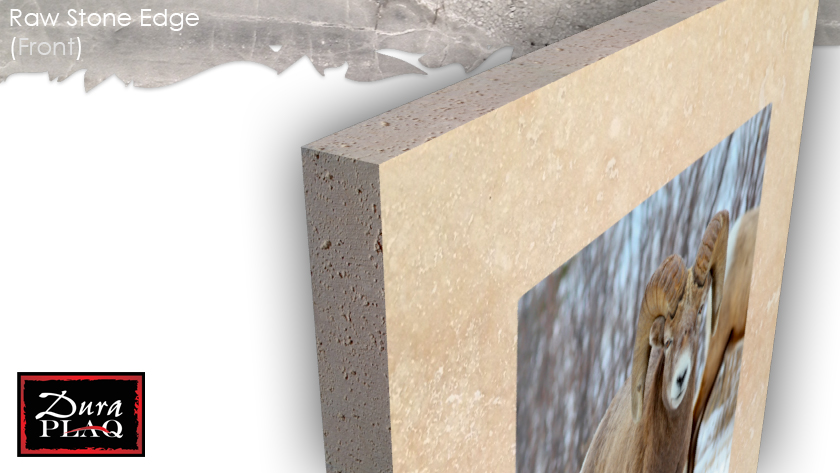 Description
Bring the texture and feel of the outdoors in!  Providing a usable art product, this coaster option is water resistant and can be used outdoors.  A stone border is displayed around the image creating an organic stone feel to compliment any image.  Multiple image treatments available including rough image edges, digital signatures adjacent to the image, and thin black border (standard unless otherwise specified).  Cork pads are provided on the bottom to prevent scratching and lend an added dimension to the Stone Coaster.  Digital image files must be exactly square to ensure a high quality coaster image.
Material and Sizing Specifications:
Real stone (texture and appearance will vary from image). Overall depth of product is approximately 3/8".  This product is available only in the set size of approximately 4" x 4" x 3/8".  If a larger size is desired please see the StonePlaq product.
Surface Finish Options:
Economy finish.  This product utilizes a direct print on the surface requiring no additional surface finish or coating.  Please note that due to the nature of printing directly to materials with varying base colors, textures and finishes, there may be variations in the surface and appearance of a direct print. DuraPlaq® does not offer replacements on surface or color variations showing through a direct print.  Visit our care section for more instruction on cleaning and maintenance.
Hanging System:
No Hanger.  To optimize water resistance and yield premium quality, Stone Coasters are intended for tabletop display and do not come with a hanging system.  Please see Economy StonePlaq product if this is the desired presentation appearance.
Edge Options:
Raw stone edge.