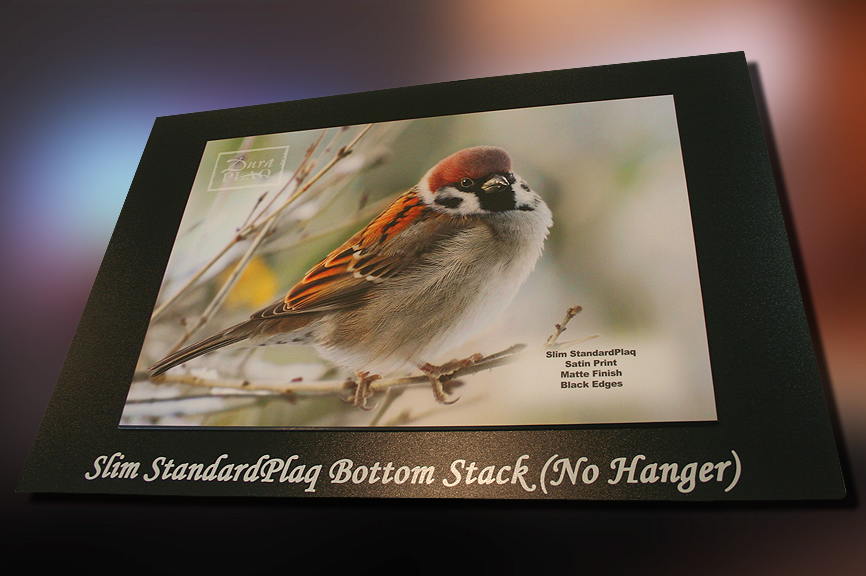 Description
Built similar to the Slim StandardPlaq, this product is designed to compliment another DuraPlaq® product to yield a frame ready matted type presentation.  Due to the thin profile and lack of hanging system, this product is largely used in picture framing applications.  Combined with a Slim StandardPlaq on the top, this makes a durable and suitable alternative to matted bin prints.  Many DuraPlaq® products can be used in conjunction with a Slim StandardPlaq Bottom Stack yielding unlimited options for creating a customized look.  The Slim StandardPlaq Bottom Stack may be ordered with a removable top component to allow for flexible and interchangeable art presentations; a DuraPlaq® product with a French cleat hanging system must be selected for the top component to take advantage of the removable option.  Slim StandardPlaq Bottom Stack product come with a standard black surface, custom options available including printed bottom stack components, engraved or embossed signatures / logos and more.
Material and Sizing Specifications:
Recycled, 1/8" eco-friendly wood coated with a smooth black acid-free barrier. Overall depth of product is 1/8", please note overall depth of combined pieces will vary with addition of DuraPlaq® top stack component.  This product is available in any size up to 48" x 96".
Surface Finish Options:
Slim StandardPlaq Bottom Stack product comes with a standard acid-free, coated black surface, custom options available.  Please visit the care section for instructions on cleaning and maintenance.
Hanging System:
Due to the thickness of this product no hanging system is provided.  Recommended uses include picture frame applications.  When combined or stacked with a Slim StandardPlaq top component, a frame-ready dimensional bin print style presentation can be created.
Edge Options:
Beveled with any available color above or left raw with no beveled edge for framing if specified.  Standard bevel is 1/16" wide.  This product may also be ordered with no edge for use in framing applications.